Lotto betting at Sportsbet

Sportsbet.com.au is one of Australia's leading online sports betting websites, offering an expansive betting market on a large selection of racing, sporting and entertainment events. But did you know Sportsbet also has a novelty betting market for international lotto draws? We explain how Sportsbet's lotto market works and how you can place real money wagers on various lottery draw results.
How does Sportsbet's lotto betting market work?
At Sportsbet, punters place bets on the outcome of certain events. For example, you may place a wager on which team will win the AFL, or which athlete will come first in a particular world championship. The lotto betting market is what's known as a novelty market, meaning it does not fit the mould of traditional sporting or racing events. Novelty bets are intended to be a bit of light-hearted fun and can extend to cover wagers on TV shows, music releases, current affairs, celebrity relationships and political campaigns.
Sportsbet's novelty lotto market gives punters the option of wagering on the outcome of upcoming national lotto draws. You do not purchase a ticket to the lottery draw, but instead bet on things like which ball will be the first draw, or what the Powerball number might be. While you won't be eligible for the same multi-million dollar jackpots offered in the lotto draws themselves, there's still some decent money to be won on these fun novelty bets, which are well suited to the casual, recreational punter.
Is this the same as lotto betting services like Lottoland?
No, Sportsbet.com.au's lotto betting option is a novelty market that's nothing like the new online lottery betting services offered by controversial companies like Lottoland and Planet Lottery. To understand the difference between the two formats, read our guide to online lottery betting formats.
What lotto bets can I place at Sportsbet.com.au?
Sportsbet's lotto betting markets cover multiple national lotteries including US Powerball. Results you can place real money wagers on include:
First ball to be drawn
First ball range (1- 9, 10-18, 19-27, 28-36, 37-45)
First ball range (1-23 or 24-45)
Number of the Powerball
Powerball range (1-5, 6-10, 11-15, 16-20)
Powerball range (1-10 or 11-20)
First ball drawn odd or even
Pick the supps
First sup draw odd or even
Second ball to be drawn
Third ball to be drawn
Fourth ball to be drawn
Fifth ball to be drawn
Ball to be drawn at any time
How much can I win?
The amount you can stand to win at Sportsbet depends on the type of lotto bet you are placing and the amount of money you are wagering. As the lottery is purely a luck based game, many of the odds are split evenly, as all balls have the same chance of being drawn and there's nothing a player can do to influence the outcome.
For example, a bet on the number of the first ball to be drawn has the exact same odds (45 to 1) no matter which ball you bet on. Bets on things like whether the first ball will be an odd or even number is a 50/50 bet. The odds and potential pay-outs of each lotto bet are readily available at Sportsbet.com.au, so you can always see what your chances are and what your potential winnings will be before committing to risk a wager.
How to bet on novelty lottery results at Sportsbet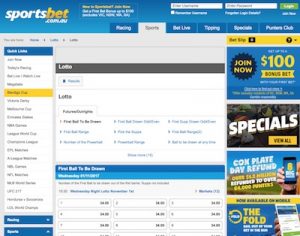 Lotto bets are easy to make and don't require any particular skill or strategy to increase your chances of winning. If this sounds like the kind of wager you would like to indulge in, follow our easy step by step guide to get involved:
Head to Sportsbet.com.au and sign up for an account by entering standard personal information like your name, date of birth and address. All punters must be at least 18 years old (ID verification is required).
To start placing wagers, sign in to your Sportsbet account and use one of the safe deposit methods available to transfer some cash to your account. Sportsbet accepts deposits using Visa, MasterCard, Skrill, PayPal, POLi, BPay and bank transfers.
From the list of betting markets listed down the left-hand side of the page, click the 'Novelty' section where you will find 'Lotto' listed as a category.
View from the list of different bets and click on any you are interested in to view the odds and pay-outs.
If you find a bet you would like to place, click on it and it will be added to your Bet Slip. Enter the amount of money you want to wager and then click through to complete the transaction and place your bet.
Any money won at Sportsbet.com.au will automatically be credited to your account, so you don't need to keep a close eye on the results of lotto draws to know if you are a winner. Sign back in any time after the draw has taken place to find out, or keep an eye out in your email as Sportsbet will notify you of any winning bets.
Tips for winning lotto bets
As mentioned above, there is nothing a player can do to influence the outcome of a lottery draw, so the bets you chose to place should be dictated by nothing more than your own intuition or lucky numbers. If you're stumped on which bets to place, you can read our guide to lucky lotto numbers for some inspiration.