Note: CrownLotto has been discontinued for the time being due to the intense scrutiny online lottery betting is facing from the government. As a result, we recommend checking out Lottoland for the same service, or visit Planet Lottery if you want to bet on both the lottery and sports.
CrownLotto is an all-new online lotto betting service from CrownBet, one of Australia's most popular online bookmaker betting sites and an official partner of the AFL. Set to launch as an Australian-run alternative to Lottoland, CrownLotto is a promising new Internet lottery option. This review will cover all aspects of CrownLotto, including deposit options, customer service, licensing and regulation, lotteries available, prices and payouts, promotions and security to determine whether or not it's worth your hard-earned time and money.
What is CrownLotto?
CrownLotto is an online lottery betting service (similar to Lottoland or Planet Lottery) rather than an Internet-based lotto ticket distributor (different to OzLotteries). If you play at CrownLotto, you are placing bets on the outcome of lottery draws rather than purchasing a regular ticket to enter the draw. This is an important distinction to under to avoid potential confusion down-the-road.
Because you are placing wagers on which numbers are going to come up (the result of the draw), CrownLotto enables players to play lottery draws from all over Australia and around the world. You're not limited by country or state anymore because you're not buying a ticket, and thus you can take part in some of the massive international lotteries only available overseas, such as the US Powerball and US MegaMillions.
What happens if I win the jackpot at CrownLotto?
If a punter at CrownLotto wins a jackpot or divisional prize, the site will pay out the equivalent of the prize-money offered for that lottery, which is basically the same as if you had a winning ticket for the actual draw.
Any winnings up to $250,000 are paid out by CrownLotto shortly after the official draws are finalised, while any winning lotto bets over $250,000 are paid your bank accounts within 21 days of the draw. You must verify your contact and banking details with CrownLotto (by providing proper identification documentation) to claim any prizes, so make sure to do that before you might score a massive life-changing win!
Any CrownLotto member can win a whole Division 1 jackpot of anywhere up to $150 million, and if you're the only CrownLotto punter with the correct combination of winning numbers, you win that entire Division 1 prize-pool regardless of the number of winners in the actual draw.
Are CrownLotto and CrownBet the same?
CrownLotto is a smaller part of the CrownBet online bookmaker platform owned by Crown Resorts and James Packer. It has a stellar reputation in Australia for superior odds on regular racing and sports betting markets as well as a top flight VIP scheme called the Crown Rewards program. Just link your Crown Signature Club Card to your CrownBet or CrownLotto account to ensure you are properly rewarded with points: Every 100 points you rack up is equivalent to $1, and you can redeem them for prizes to use at Crown Resorts venues such as free parking, complimentary hotel stays, free dining, and much more.
One of the main benefits of choosing CrownLotto to play your favourite lotteries is with the same account, you have access to dozens of other racing, sporting and novelty betting markets, such as basketball, boxing, cycling, cricket, esports, football (AFL), golf, MMA, soccer, tennis and more. So if you are the type of punter who also likes to bet on your favourite footy match or take a guess at who will win this year's Bachelor, you will be able to easily do so with a CrownLotto/CrownBet account.
Who can play at CrownLotto?
CrownLotto is available to Australian players aged 18 years old and over. Current state exclusions are yet to be announced, but South Australian residents will most likely be unable to sign up and play due to local state legislation (SA Lottery and Gaming Act 1936) which prohibits betting on the outcome of a lottery.
How do I play at CrownLotto?
CrownLotto uses the existing account system from their parent company CrownBet for all user accounts. All you have to do is go through the following steps to get started at CrownLotto:
1. Sign up for an account at CrownBet here (the parent company of CrownLotto), or login to your existing CrownBet account here.
2. Click 'Balance' or your profile name at the top-right hand side of the page to gain access to the 'Deposit' section of the user interface and fund your account with a number of different payment methods to begin placing bets on your desired lottery draws.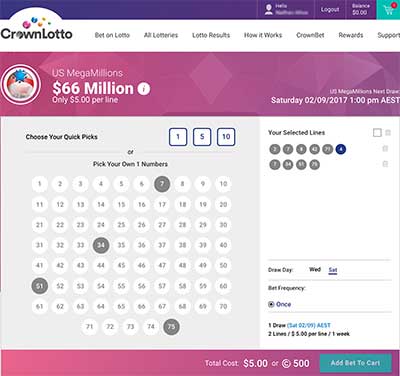 3. Once you have sorted out your account funds, click the 'All Lotteries' tab to see a full list of Australian and overseas lotto draws currently offered at CrownLotto.
4. Click the 'Bet Now' button on your desired lottery and the site will take you to the numbers page where you can pick your own numbers or use the quick picks option to let CrownLotto automatically randomly choose numbers for you.
5. Here you can see how many lines you wish to play and the total cost per line, as well as the draw time. Once you have picked your numbers, click 'Add Bet To Cart' and follow the check-out prompts to confirm your lotto bet.
What lotteries are available at CrownLotto?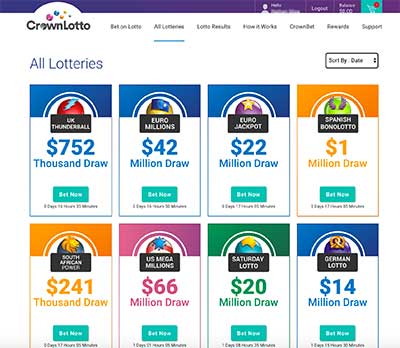 CrownLotto accepts bets on several of the best Australian and international lotteries held around the world, including several unique draws that aren't offered at Lottoland or Planet Lottery, giving it an edge over its competitors and another valid reason for seasoned online lotto players to consider having accounts at all of them.
All lotteries are filtered by date, country, jackpot or A-Z so you can find what you're looking for quick and easy, and they each display the current jackpot amount and time left until the draw. Click the 'Lotto Results' tab to see the winning numbers and results of past lotteries.
Each available lottery also lists the current minimum jackpot amount, the odds of winning a prize, and how many numbers + supplementary/bonus numbers you need to correctly guess to win each division prize.
Australian lotteries at CrownLotto
Monday & Wednesday Lotto
Tuesday Lotto
Thursday Lotto
Saturday Lotto
International lotteries at CrownLotto
Austrian Lotto
Brazilian Mega Sena
California Superlotto Plus
Canadian Lotto
Cash4Life (USA)
El Gordo Christmas Lottery (Spain)
El Gordo Primitiva (Spain)
El Nino (Spain)
Euro Jackpot
Euro Millions
Finnish Lotto
Florida Lotto
French Lotto
German Lotto
Irish Lotto
KeNow
Mega-Sena (Brazil)
MegaMillions (USA)
Multi Keno
New York Lotto
Polish Lotto
Mini Lotto (Poland)
Super Enalotto
Spanish Bonolotto
UK Lotto
UK Thunderball
US Mega Millions
US Powerball
Deposit and withdrawals options at CrownLotto
CrownLotto supports deposits and withdrawals made with the following payment services:
Bank Transfer/Money Wire
BPAY
Credit card (MasterCard or Visa)
Debit card (MasterCard or Visa)
Is CrownLotto legal?
CrownLotto is part of CrownBet and is licensed and regulated by the Northern Territory Gambling Commission in Australia. It is a safe and trustworthy online betting site that follows the same laws and responsible betting procedures as all other licensed bookmakers and online lottery sites, such as Lottoland and William Hill's Planet Lottery.
How to contact CrownLotto
Customer service at CrownBet is very responsive the same type of stellar service is also provided for CrownLotto queries. CrownLotto's current contact options are the same as parent platform CrownBet.
CrownBet/CrownLotto contact details
Customer Service Australia: 13 CROWNBET (13 27696 238)
Customer Service New Zealand: 0800 238 399.
Customer Service International: +61 3 9257 3685.
Fax: 1800 32 64 32.