Planet Lottery

BUY TICKETS
Established:

2017

Customer Service:

24 hr Live chat

Players from United States accepted
Planet Lottery is a new online lotto betting service from William Hill, one of the global leaders in online gambling. It is available exclusively to Australian players, excluding residents of South Australia. We've thoroughly tested the Planet Lottery platform to check out how it works and what services, bonuses, security and deposit options it offers to determine if this betting site if worth your time and money.
How does Planet Lottery work?
Planet Lottery is an online gambling service that allows players to place real money bets on the outcome of different lottery draws from around the world. You purchase tickets and choose your lucky numbers just like you would if you were purchasing a ticket to the lotto draw, but technically your bet is on what the results of the draw will be rather than having a ticket to the draw itself.
This creative form of betting gives Australian punters the chance to take part in giant overseas lottery draws that wouldn't otherwise be available, with some life changing jackpot prizes up for grabs. The lottery bets themselves are run by Lottoland, with William Hill acting as a sort of middle man, passing bets on to Lottoland on your behalf.
Who can play at Planet Lottery?
Planet Lottery is available to Australian players aged 18 years old and over. Unfortunately, South Australian residents are not permitted to use this betting service. Gamblers who have signed up for a pre-commitment limit are reminded that any limits set also apply to lotto gambling.
Bonus offers for new players
Whether you're an existing William Hill member or joining for the first time, William Hill is rewarding new players with 400 bonus William Hill Reward Points when you place your first Planet Lottery bet. To take advantage of this offer, you must deposit and bet at least $10.
However, beyond this bonus offer, be aware that you will not earn William Hill Reward Points for bets placed on the Planet Lottery platform. Unfortunately, at this point you cannot use William Hill Reward Points or Bonus Bets at Planet Lottery.
What lotteries can I bet on?
Planet Lottery offers Aussie players to option of betting on the outcome of the following major international lotto draws:
Rapid Keno
Daily Lottos
US Power
US Mega Millions
Euro Millions
EuroJackpot
UK Lotto
Swedish Lotto
French Lotto
Irish Lotto
German Lotto
El Gordo de la Primitiva
El Nino
El Gordo de Verano
And several others. The Planet Lottery homepage allows you to sort the available lotteries by popularity, name, jackpot amount or closing time and clearly displays the amount of money up for grabs in each, along with the cost of the minimum bet.
How to place bets at Planet Lottery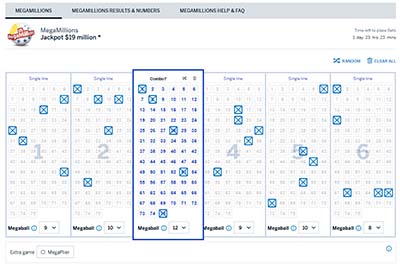 The idea of lottery betting may sound a bit complicated if you're new to this service, but placing bets on lotto draws at Planet Lottery is incredibly easy. To play, sign up for an account with William Hill, go to the Planet Lottery section, and click on the main game lobby to choose which lotto draw to bet on. Pick your numbers by clicking the grid, or you can choose a quick-pick option to have the number randomly selected for you. Once you're ready, hit the 'Place Bet' button on the bottom right hand side and your bet is complete. Once you have placed your bet it cannot be cancelled or amended, so make sure all details are correct before locking it in.
Once the lotto draw has taken place, you can head to the 'My Bets' section in your account at any time to check the results. Any winnings you have made will be automatically credited to your William Hill betting account within a due timeframe. Winnings of up to $100k will be credited in accordance with William Hill Australia's Betting Rules, while if you win over $100K, the customer service team will contact you to let you know when you will receive your winnings.
Note that you will be required to verify your identity before you can withdraw your winnings, so make sure your account and contact details are correct when you sign up.
Deposit and withdrawal options
William Hill's Planet Lottery offers a selection of safe and trustworthy deposit options, making it easy to load your account with real money and start betting on lottery draws straight away. The Australian dollar deposit options available include:
Visa
MasterCard
Direct bank deposit
MasterPass
Skrill
PayPal
POLi
To make a deposit, login to your William Hill account, click on the 'My Balance' option at the top of the page and select 'Deposit.' Choose from the list of payment options available and follow the prompts to complete your transaction.
Withdrawals at Planet Lottery are available via BPay, PayPal, Skrill, EFT or international bank transfer.
License and security info
William Hill's Planet Lottery is a fully licensed and regulated online gambling site, operating in strict accordance with the laws set by the Northern Territory Racing and Gaming Commission. It is a Verisign Secure site with all transactions protected by SSL (secure socket layer) digital encryption security, and coupled with the upstanding reputation of the William Hill brand, punters can rest assured their privacy is well taken care of.
Customer service
Questions, comments and assistance is available at Planet Lottery via email contact form, live chat and Australian toll free help line on 1800 007 238. There's also a detailed FAQ section for quick answers to common queries like how to deposit and withdraw, bonus offers, security and more.