Novels about lotto winners
There's no shortage of lottery tips, guides and "guaranteed" ways to win, but the harsh reality is that these tend to offer little in the way of effective strategy. Besides, it's far more interesting to read about lottery winners than it is to read about trying to become one, because, let's be frank: there's no sure-fire way to get all the numbers outside of simply playing. As they say: you have to be in it to win it! The fantasy of a big lottery win is almost if not more exciting than playing the game itself, so let's take a look at some of the best novels about lottery winners.
The Lottery Ticket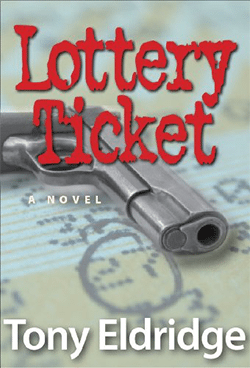 This fascinating novel by Anton Chekhov provides some interesting social commentary on the ways in which money can (potentially) change us and our relationships. It follows the story of Ivan Dmitritch and his wife, who mistakenly believe they have won the lottery. As they start fantasising about how they're going to spend the money, they become increasingly suspicious and resentful of one another. However, Ivan soon glances down to his ticket to realise they have the wrong final number, and the two suddenly fall back into their familiar routine. Sure, it's not about "winners" specifically, but it hits home in accentuating the excitement and conflict that comes with such a significant life changing event.
The Winner
This thriller by author David Baldacci tells the tale of a young woman who is offered a deal almost too good to be. Living in poverty in a trashy trailer park, LuAnn Tyler receives a winning lottery ticket worth $100 million, which she can claim if she leaves the US and never returns. Of course it's not that easy, and there's another catch involved.
Charlie and the Chocolate Factory
Now I know what you're thinking: Charlie didn't win the "lottery". He did end up with an extremely successful and valuable chocolate factory, however, so in essence, he did. This classic from Roald Dahl has stood the test of time, and is unsurprisingly one of the greatest novels ever written, not only due to its charming and fantastical nature, but also because of how it builds up such a wonderful variation of characters and moral dilemmas. It's also a real treat to read, and invokes a similar sense of fantasy and dreaming as your standard lottery tale.
Ticket No. 9672
Also known simply as "The Lottery Ticket", this book by Jules Verne (of 20,000 Leagues Under The Sea and Around The World In 80 Days fame) tells the tale of a woman who comes across a mysterious message-in-a-bottle after her husband is lost at sea. Inside the bottle is a lottery ticket with the numbers "9672", and, as expected, the town gets caught up in the meaning and value of the ticket in the upcoming lottery.
Lotto Lucy
Kathleen Irene Paterka's tale of a $70 million-winning lottery winner brings about some common themes often heard about out of such large wins. Lucy Carter becomes a millionaire overnight, only for her estranged mother to appear out of nowhere, claiming to have the best interests of Lucy at heart.
Molly's Million
Victoria Connelly's gripping tale of a florist winning the lottery relies on interesting themes of trust, greed and reward. It follows Molly Bailey who, after deciding to give her 4.2 million pound lottery win away, ends up the victim of numerous ploys to get the windfall. As expected, there's plenty of family conflict — her brother resents the fact that she's giving it away — while a young journalist is hot on Molly's tale, trying to build a career-defining story out of her lottery win.
Lottery Boy
This story by Michael Byrne is riddled in rags-to-riches cliches, but it's charming nonetheless. It tells the tale of Bully, a homeless boy whose life is suddenly turned upside down by — you guessed — a winning lottery ticket! After his mother passes away, Bully finds an old birthday card from her with a lottery ticket inside. However, he discovers that getting his hands on the money is much harder than it seems.
Lottery
This story by Patricia Wood has its ups and downs, following an autistic man named Perry Crandall who suddenly finds himself surrounded by people who think they know what's best for him. As you probably guessed, it's because he suddenly wins the lottery, having decided to continue on the tradition of playing weekly, just as his recently passed grandmother had done for decades. Perry soon finds himself with a $12 million windfall, and people that previously didn't care about him now have all the interest in the world.
The Rich Part of Life
If you're going to read one lottery novel, make sure it's this one. Jim Kokoris' dark and hilarious look at how winning the lottery transforms a person is a bittersweet tale of regret and redemption. It's told by Teddy Pappas, an 11-year-old who lives with his estranged father following the sudden death of his mother. His emotionally challenged father soon wins a $190 million lottery jackpot, having played the numbers Teddy's mother had played for years. It's an interesting insight into how such a significant life changing event can shift and evolve relationships, made all the more interesting by the age and innocence of the storyteller.
You can read more about the best places to play online right here. Or get started at our no.1 lotto website for Australians Lottoland