Kiwi players have plenty of chances to strike it rich, with multiple lottery games running in New Zealand throughout the week. We'll take you through all the lotteries available to New Zealanders and provide an overview of the organisation which hosts these potentially lucrative games.
The New Zealand Lotteries Commission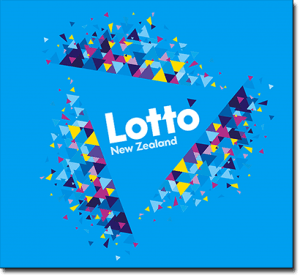 All lotto style games in NZ are hosted by the New Zealand Lotteries Commission, which is a Crown entity which received approval by parliament back in 1986. Since the inception of NZ Lotto, profits made from these publicly regulated lotteries has put back over NZD $3.6 billion to the Lotteries Grants Board, funding endeavours in the arts, recreation, community and sports sectors. Money generated from the lotteries has made a significant contribution to the New Zealand Film Commission, Sports New Zealand and Creative New Zealand. What initially started out as one large nationwide lottery has now grown to several different lotteries which are explained further below.
Lotto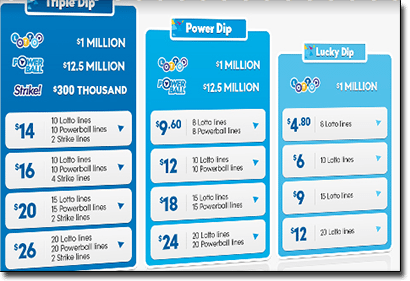 The original NZ Lotto is the biggest and most popular of all the New Zealand lottery games, with a live draw televised on the TV One channel every Saturday and Wednesday night. This is a standard lottery game, where money is won if you can correctly match numbers on a line of your lottery ticket to the numbers randomly drawn for that corresponding draw. There is the choice to personally pick your lotto numbers, or to use the 'dip' option to have the computer automatically select numbers for you.
The Saturday draw is broadcast at 8PM and the Wednesday draw is broadcast at 8:30PM, with results also available online. A division one prize averages around the one-million-dollar mark. NZ Lotto tickets costs 60 cents per line, with a minimum of four lines required per ticket meaning the cheapest ticket will cost you $2.40 all up. Lotto tickets also come with the option of adding several other mini games like Powerball and Lotto Strike for an additional cost as explained below:
Powerball – the Powerball draw has its own numbers and separate draw which happens immediately after the Lotto draw, but you still must have purchased a Lotto ticket in order to play. To play Powerball, pick an extra number between one and 10 for each line on your Lotto ticket to add to the Powerball column. It'll cost an additional 60 cents per line to play Powerball, and you must play a minimum of four lines when picking your own numbers, so the cheapest Powerball ticket will cost you $4.80 in total.
Lotto Strike – when choosing to add the Lotto Strike game to your Lotto ticket, the aim is to correctly predict the order of the first four lotto numbers drawn. For example, if you think the number 12 will be the first number drawn, make number 12 the first number on your Strike ticket. You can play as little as one or as many as 20 Strike games per Lotto ticket for an additional $1 per line.
Bullseye
Bullseye is a daily game where all you need to do is pick a lucky six-digit number anywhere between 000,000 and 999,999 and the closer your number is to the winning Bullseye number drawn that day, the higher your chances of winning. Bullseye tickets only cost $2 but can win you a division one prize of $100,000 or a jackpot as high as $400,000. A Bullseye draw happens daily at 6PM.
Play 3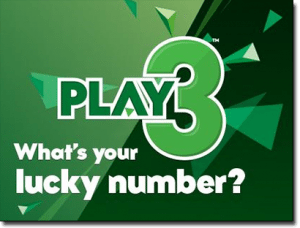 Play3 is a daily number game where you pick a three-digit number, a play type and the number of draws you wish to play, with a draw happening every night at 6PM. The aim is to match the three-digit number, but multiple play types give you some leniency on how this happens:
Exact order – match the three numbers in the exact order and win $500
Any order – match the three numbers in any order and win $160 or $80 depending whether all three digits are unique or there are pairs (eg. 123 compared to 122)
Pairs – match two digits in exact order and win $17
A Play3 ticket will cost you $1 regardless of the play type you select.
Keno
New Zealand Lotteries run four standard keno games a day, with draws taking place at 10AM, 1PM, 3PM and 6PM daily. You can pick up to 10 numbers between one and 80, with 20 balls then drawn at random to determine the winning keno numbers. If you hit enough Keno picks, you win a cash prize based on how many you guessed correctly. It's your choice whether you want to select your own lucky numbers or have the computer do it for you using the Keno Dip option.
The cost of your Keno ticket will depend on how many lines you choose to play, the amount you wish to bet per line and how many draws you decide to enter. The jackpot prize for matching all 10 numbers is $250,000 based on a $1 wager, but higher bets can earn the maximum prize of $1 million.
Instant Kiwi
Instant Kiwi is the name given to New Zealand's range of instant scratch cards, with four different levels of scratchies available ranging between Easy As, Rapidfire, Break Time and Challenge. The more expensive scratch card you purchase, the higher the jackpot prize available, as follows: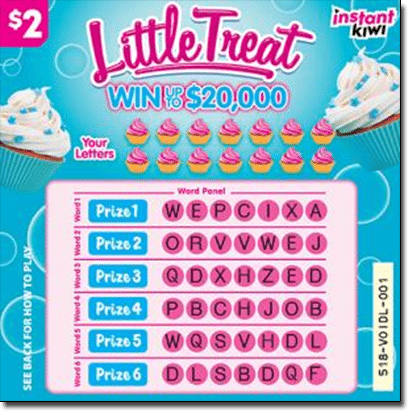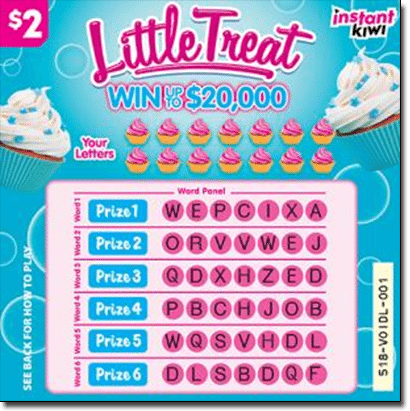 $1 tickets – jackpot prize $10,000
$2 tickets – jackpot prize $20,000
$3 tickets – jackpot prize $40,000 – $50,000
$5 tickets – jackpot prize $75,000 – $100,000
$10 tickets – jackpot prize $250,000
There's also a 2nd Chance draw where you can enter your non-winning Instant Kiwi scratch card ticket for a chance to win $1,000, with 10 2nd Chance prizes to be won each week.
Tickets to all of New Zealand's lottery games can be purchased online or in retail outlets throughout the country.