Lottery scammers claim to be illegal immigrants to trick victims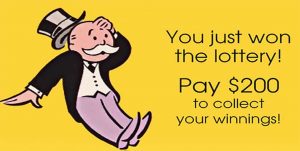 Lottery scammers in the UK have tricked elderly victims into handing over cash and jewellery by saying they've won the lotto and need someone to collect their prize.
The latest lottery scam to hit the country involves con artists tricking elderly into believing they are illegal immigrants who have won the National Lottery, and cannot keep their winnings.
The criminals convince their victims they will give a share of their winnings if they claim the prize money on their behalf, asking them to hand over cash, jewellery and other valuables as insurance after explaining that they aren't UK citizens.
Once the victims of the scam have handed over their valuables, the fraudsters disappear with their loot.
According to a police investigation, some have lost up to £5000 after being targeted. Officers have urged people to keep an eye out for those initiating the scam.
There have been around five cases reported in Hertfordshire, while officers in Bedfordshire have been warned about the scam.
A spokeswoman for the police revealed most victims are approached face to face, making it difficult to catch them.
"This is the first time we have seen this method being used in Hertfordshire and we want to get the message out to people to help prevent them from falling prey to these callous fraudsters," Detective Constable Kirsty Rusbridge told the Mirror UK.
"It has been reported that the offender often has an accomplice who poses as a member of the public, keen to take up the offer.
"If you are approached in similar circumstances, please don't hand over any cash or belongings and contact police straight away."
Lottery scams aren't just occurring in the UK, with US lottery officials warning Pennsylvanian players of two cons doing the rounds via phone, social media, and email.
According to the Pennsylvanian lottery officials, the telephone scam features the MegaMillions game, while the email and social media scams mention US Powerball.
The con artists are reportedly claiming to be agents/officers and ask people to buy a prepaid debit card or request financial information to pay up-front taxes or fees for the lottery draws.
Lottery officials have clarified that you do not have to pay any fees for lottery games – all you have to do is purchase your tickets from an authorised retailer.
While lottery scams are nothing new, they still manage to trick innocent lotto players all over the world. We've written a lottery scam guide detailing what to look out for and how to steer clear of them altogether.
Participate in US Powerball and UK Lotto in Australia
If you live in Australia, you can buy tickets for these international lottery games, as Lottoland offers the chance to bet on the outcome of UK Lotto, US Powerball, MegaMillions and more.
Lottoland is licensed bookmaker in the Northern Territory, and while you aren't buying tickets into the official draw, you are betting on the outcome to win the same enormous division one prizes. Think it's a scam? Check out our review on Lottoland to find out why it's not.