Lotto makes millionaires out of two Novacastrians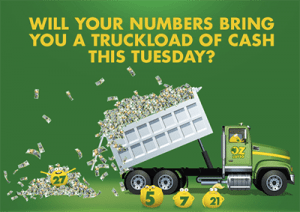 Newcastle has hit the jackpot following two lottery success stories this week, with one winner still unaware.
A newsagency in Georgetown has sold a winning $10 million OzLotto ticket to one lucky Novacastrian.
The lucky punter is yet to come forward and its likely they're oblivious they are now a multi-millionaire.
NSW Lotteries spokesman, Matt Hart, confirmed the only division one winner was sold in the Newcastle suburb and while the ticket was registered, they had been unable to contact the winner.
"We don't know if this winner knows about their huge $10 million windfall yet, but we'd love to get them on the phone to confirm the news to them," Mr Hart said.
"I suspect it's really going to turn their week around."
Mr Hart is urging the winner to answer their phone, after several unsuccessful attempts using their Player's Club registered details.
Georgetown newsagency owner, Paul Smith was thrilled with the news.
"Since taking over the store three years ago, our biggest prize was $14,000, but now that's been blown out of the water by this $10 million win," Mr Smith said.
"Newcastle seems to be a magnet for lots of things lately.
"I've never heard of it getting over $5 million in Newcastle.
"I haven't heard of anything this big in a single win before."
Tuesday's winning numbers were 2, 37, 26, 17, 42, 33 and 27, with the supplementary numbers 44 and 4.
This follows a 13-month long search for the winner of the $1 million division one prize in a Saturday Lotto draw, with the winning ticket sold at a Marketown newsagency.
An anonymous man came forward earlier this week after he found his ticket at the bottom of his shopping bags.
"I line the bottom of my reusable Aldi shopping bags with old beer cartons to give them some strength," he said.
"The ticket was hidden in underneath it and I didn't know it was there."
He checked his numbers online where it was revealed he had won the division one prize of $1,020,496.
"I'm glad I didn't just get the old bags and take them to the dump," he said.
The lucky winner revealed he will use the money to pay off his children's house repayments and fund his grandchildren's education.
Owner of the Nextra Marketown Newsagency, Cheryl Tuckerman, said she was relieved the search was over and the winner had claimed their prize.
This sees the Lott's division one winners reach 272 this financial year, with 79 won by NSW Lotteries customers.