Lottoland is facing a nationwide ban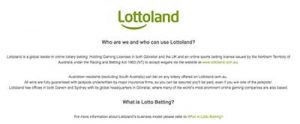 The fight against Lottoland has been taken up a notch with several politicians aiming for a nationwide ban.
Considered to be akin to the Uber and the taxi situation, the government is targeting Lottoland for stealing customers from Tatts' independent newsagents.
But a significant decline in state revenue is likely to be the real reason behind the proposed ban, given newsagents do not receive any commission when players buy their tickets into official lotteries online via the Tatts website and Oz Lotteries.
Additionally, the Victorian government recently revealed it expects to lose more than $90 million over the next three years due to online lottery betting sites.
Lottoland is aware of the real issue, launching a "tax us, don't ban us" campaign in response to a ban. It is also willing to pay a 15 percent point of consumption (POC) tax to all state governments.
Bookmakers are required to pay this POC tax in South Australia, where the site is banned, while Western Australia will implement a POC tax on betting site revenue in 2019.
Meanwhile, Senator Nick Xenophon and One Nation Leader, Pauline Hanson, want Lottoland, the online bookmaker which allows Australians to bet on the outcome of official draws Down Under and overseas, banned.
The increased heat on the online lottery betting company follows the media reforms which Communications Minister, Mitch Fifield, managed to pass last week with the support of Senator Xenophon and Senator Hanson.
Minister Fifield has since written to the Northern Territory government, where Lottoland is licensed, requesting the regulator explain the reasoning behind giving the site a licence.
Lottoland pays $500,000 per year for its Northern Territory licence, similarly to other online betting sites like CrownBet which recently launched an online lottery product known as CrownLotto.
The letter reportedly details the concerns of politicians regarding the business model, where insurance is taken out to give players the chance to win the same jackpot amount as the underlying lottery in the official draw they are betting on, such as US Powerball.
Senator Fifield's letter to NT Attorney-General, Natasha Fyles, also outlines the attitudes expressed in the Tatts' 'Lottoland's Gotta Go!' campaign including that the company misleads customers.
Lottoland features a clear disclaimer on its website and has ramped up advertising to explain that players are not buying a ticket into an official draw. However, several politicians reportedly believe it is a "risky product" which "could exacerbate problem gambling", while also taking tax revenue from state governments which could be used for community services.
Lottoland Australia chief executive, Luke Brill, said he is "shocked" at the senators' perspectives and stated that Lottoland is a "legitimate business that pays its way".
CrownLotto, which is Lottoland's rival, also contributes a percentage of its revenue to community projects.
Senator Hanson, who unsuccessfully introduced secondary amendments to the Interactive Gambling Amendment Act 2016 banning Lottoland earlier this year, believes online lottery betting sites will ruin independent newsagencies.
"Australian newsagencies are facing huge losses because the government is allowing Lottoland to continue cutting into their profits, but I want them to know they have my full support," Senator Hanson said.
Senator Xenophon is carrying out his own campaign, urging Australians to boycott betting sites which offer "phoney lottery'' services.
"Lottoland is not a real lottery – people who use Lottoland are simply betting with a bookie," he said.
"Pretend lotteries like Lottoland deprive small family-run businesses of vital income.
"Newsagencies and the families they support are an important part of our communities."
It's not clear what Senator Xenophon's take is when it comes to people buying tickets online via the Tatts official lottery sites as newsagencies do not receive commission.
"Betting on the outcome of a lottery should be banned and I will take steps to do so to protect the livelihoods of thousands of newsagencies and retailers from Lottoland's greedy grab," he said.
The federal government may act and enforce a nationwide ban on these sites or on betting on Australian-based lotteries, or individual states may implement their own legislation, similar to South Australia.
The Victorian government announced earlier this week that it was working towards banning online lottery betting sites, while WA Premier Mark McGowan also announced a crackdown. Queensland is also considering a state-wide ban.