Lottoland launches new Keno 24/7 product

If you're partial to playing a few rounds of keno every time you're down at the local pub or club, you may be excited to learn that Lottoland has just launched a brand new product, Keno 24/7, which allows Aussie punters to play keno online at any hour of the day. New keno games are running every four minutes, giving users the chance to win anywhere from $3 to $4 million, all from the comfort of home.
Lottoland's Keno 24/7 is incredibly flexible, allowing players to play from as little as $1.00 per game. You can bet on anywhere up to 10 numbers in each draw, and with 37 ways to win in each game it is entirely up to you how much you want to bet to determine how much you stand to win.
Here's how to play:
Head to Lottoland.com.au and sign up for an account.
Click on the Keno 24/7 game category.
Use the grid to pick your numbers. You can choose anywhere between one and 10 numbers – the more you choose, the more you stand to win.
Select how many draws you wish to bet on. Participating in more draws means a higher chance of winning, but it also means you'll be laying down more money as a wager is required for each game you play.
Choose your stake – it can be anywhere between x1 and x10. All winnings are multiplied by the value of your stake, so the more you wager the more your potential profit.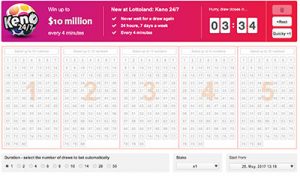 As you make your selections, a pay table will come up letting you know exactly how many numbers you need to match to claim a win. Once your selections are in place, hit the submit button to make your bet official and follow the prompts to enter your payment details and check out. You can make payments at Lottoland using a variety of trusted payment methods, including Visa, MasterCard, PayPal, POLi, BPay and Paysafecard.
Like Lottoland's lottery services, players are actually betting on the outcome of a keno draw rather than participating in the official keno game itself, but the same value prizes are up for grabs and games are slightly more affordable. You can read more about how Lottoland works here.
Keen to play a few rounds of real money keno from the comfort of home? Head to Lottoland and give Keno 24/7 a go from the desktop website or using the official mobile app.