Lottoland proposes partnership with independent newsagents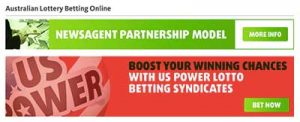 Online lottery betting sites might have a fighting chance thanks to Lottoland's innovative newsagents' partnership proposal.
Lottoland Australia has announced a world-first deal which could change the way we play the lottery forever while making it a level playing field for newsagents.
Under the terms of the deal, participating newsagents would receive a 10 percent cut for every customer who bets with Lottoland, with players asked to select their local newsagent when signing up to Lottoland. Players who have already signed up to Lottoland will also have the chance to select their preferred newsagent.
The online lottery site has been facing the possibility of state-wide and nationwide bans, with newsagent owners claiming the company is stealing their customers and threatening their livelihoods. The site gives players the chance to bet on both Australian lotteries, and lottery games overseas including the EuroMillions. You can read more about Lottoland in our review.
However, Lottoland CEO, Luke Brill, said the deal gives newsagents a chance to evolve with the ever-changing environment.
"Lottoland has listened to Australian newsagents and this model is recognition that we need to work together," he said.
"Newsagents will always have a longstanding cultural link to lotteries, but as it stands there is no infrastructure for them to take advantage of overseas lotteries and online betting.
"This needs to change."
Participating newsagents will have to market the lottery betting site in their stores, using posters and flags.
However, they will only have to promote Lottoland's international lotteries – Australian lotteries will be excluded.
Lottoland has made it explicitly clear that newsagents will not be required to promote a lottery which they sell tickets for.
"Every bet on an overseas lottery is incremental revenue, part of which can now flow fairly to newsagents," Mr Brill said.
"This model complements in-store lottery purchases and opens a channel for these businesses to benefit from the emerging pool of 'online only' punters."
Tatts recently created a campaign to get Lottoland shut down, pushing the view that online lottery betting sites don't pay lottery taxes. Lottoland responded to the campaign stating it would pay tax in every Australian state and territory.
"We must be the only business in Australia asking governments to tax us but we're doing this so we can help fund much-needed community projects," Mr Brill said.
The company also donated $50,000 to the Royal Flying Doctor Service and sponsored the Mitchell Street Mile.
Tatts launched a brand new online website this week, in the hopes to attract millennials who prefer to do everything on smartphones and tablets. Independent newsagents do not receive any revenue for players who purchase tickets on Tatts' online website.
Mr Brill said instead of "using newsagents as pawns in a campaign to maintain… monopoly", the company was looking at ways to put "cash back into small businesses."
"Meetings with all levels of government have been promising and have helped Lottoland overcome the misinformation spread by Tatts' $5-million-dollar smear campaign," Mr Brill said.
While the CEO, who launched Lottoland in 2016, said he met with the Australian Lottery and Newsagents Association (ALNA) Chief Executive Adam Joy on Monday to float the idea, it appears it hasn't been well-received.
Mr Joy told The Australian the offer was a ploy to save the company. He added while ALNA would inform its members of the deal, he believes independent newsagents won't partner with Lottoland.
If you want to check out what all the fuss is about, head to Lottoland online lottery betting site and create an account.