Man finds winning lotto ticket 48 hours before it expired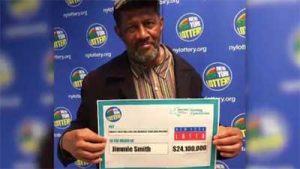 We've all lost a lottery ticket before, but one man misplaced a $USD24.1 million ticket with just days left until it expired.
More than a year ago, 68-year-old Jimmie Smith purchased a ticket into the New York Lottery draw which took place on May 25, 2016.
The winning numbers were 05, 12, 13, 22, 25 and 35, with one Division One winner – Mr Smith.
While The New York Gaming Commission (NYGC) knew a NYC bodega had sold the winning ticket, it didn't know who had purchased it.
With no winner coming forward, the NYGC urged NY lottery players to look for the ticket.
Winners have one year to claim the prize until it expires, and with just 48 hours to spare, it wasn't looking good for the unknowing ticket holder.
However, Mr Smith, who said he kept telling himself to check his tickets when he has time, heard a news story about the mystery winner. He said it inspired him to go and check his old tickets, which he kept in a shirt hung up in his closet.
Mr Smith's ticket, from the pocket which housed several other old tickets, matched all six lotto numbers and the bonus ball.
"I stood there a minute thinking, 'Do I see what I think I see?'," the grandfather of 12 said.
"I had to stick my head out the window and breathe in some fresh air."
The story has only surfaced now as Smith has only just received his first lottery check from the state lotto. The retired security guard has opted to have his millions paid out over 26-years instead of a single lump sum – which online lottery betting site, Lottoland offers.
Other lottery winners haven't been as lucky as Mr Smith – with a $77 million US Powerball winner and a $31 million New York lotto winner never claiming their prize.
Keep all your lotto tickets in one place
Do you lose your lottery tickets easily? Head online where you can keep it safe under the one account. Follow our links to sign up to Oz Lotteries to purchase tickets into the official Tatts and LotteryWest draws. Then you can choose your numbers on your desktop, laptop, smartphone or tablet and your results will be checked automatically for you – there's no need to go into a newsagent.
If you want to try something new, check out online lottery betting. It is similar to betting on sports or your favourite television show, as you're betting on the outcome of Australian lottery draws and international lotteries, including the US Powerball. We recommend checking out the online lottery betting site, CrownLotto, which also allows you to bet the New York Lottery.