Tasmania joins Australian states in plans to ban lottery betting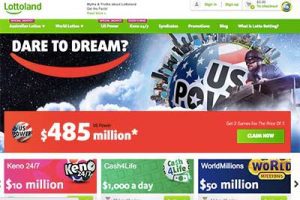 Tasmania has joined the likes of Western Australia and other Australian states in a prohibition-based approach to online lottery betting.
It appears Tatts' campaign against the lottery betting site Lottoland has prompted state lawmakers into action, with the Tasmanian government the latest to announce plans to ban the site.
But Lottoland won't be the only site banned if the state goes ahead with these plans, with CrownBet's recently launched CrownLotto site and Lottoland's partner William Hill, which offers Planet Lottery, set to face prohibition too.
Online lottery sites give players the chance to bet on the outcome of official lottery draws based in Australia and overseas. Players bet on their preferred numbers, picking them the same way they would when purchasing a ticket into official draws.
These sites are classed as bookmakers and have a bookmaker licence from the Northern Territory. South Australia banned betting on lottery outcomes, while it is legal in every other state and territory in the country.
Parliamentary Secretary for Small Business, Roger Jaensch, announced on Wednesday that the state government is preparing to draft legislation to ban online lottery betting.
"It could prove difficult to control on a state level, but South Australia has done it. We will start technical and legal work straight away," he said, adding that the government would consult other state governments in the process.
"There is a difference between buying a ticket in the lottery and online gambling where consumer protections do not apply. This form of product is not welcome here."
Known as the Uber of the lottery industry, the Australian Lottery and Newsagents Association (ALNA) has been quick to target Lottoland, claiming that it is threatening the livelihood of independent newsagents' owners.
While Tasmania had stayed relatively quiet as Western Australia and Victoria announced plans to outlaw online lottery betting, it appears the state may be the first to do so.
ALNA Tasmanian general manager, Ben Kearney, said the lottery industry was concerned about online lottery betting sites capturing customers from official lottery draws.
There are 92 independent authorised Tatts lottery outlets in Tasmania, with several stating lottery bookmakers are stealing customers.
"We can certainly find solutions and I applaud the Government's decisive actions," Mr Kearney said.
While Lottoland states on its website that it "is a bookmaker, and not a lottery operator", Latrobe Newsagency manager, Michelle Callandar, told News.com.au that she believes customers don't realise Lottoland's not part of Tatts.
"We have been here for 38 years and been a lotto agent for almost as long and we are pleased the Government has acted swiftly on a very worrying new trend," she said.
ALNA CEO, Adam Joy, said that Tatts lotteries generate millions of dollars in taxes for the government and that banning it in the state "reaffirms the vital role of small business, such as the lottery and newsagents' industry, in the Tasmanian economy."
But Lottoland said it is open to paying more tax, including a point of consumption tax, which was recently introduced in South Australia. Western Australia will enforce a 15 percent POC tax in 2019, too.
Lottoland CEO fights for its place in Western Australia
Lottoland Australia CEO, Luke Brill, flew to Western Australia yesterday, in an attempt to stop the state Premier, Mark McGowan, from banning the site.
Prior to the meeting, Premier McGowan said he still planned to ban online lottery betting in the state as it affected the state-owned lottery, Lotterywest.
Mr Brill has rejected claims that Lottoland is the reason Lotterywest lost $60 million in revenue last financial year.
"It's nothing to do with Lottoland. We can't move the dial – we're not big enough in WA yet," he said.
Western Australia will be implementing a point-of-consumption tax from January 2019, which will see NT licensed betting sites, including Lottoland if it is still legal in the state, paying 15 percent tax to the government.
"We believe that that 15 percent can then flow through to good causes here," he said.
If you want to try out lottery before it is banned in your state, you can head to Lottoland and bet on the US Powerball, with a jackpot set at $AUD485 million on the Australian site.