Tatts and Tabcorp reveal plans for $11 billion merger


Two of Australia's largest gambling entities, Tatts and Tabcorp, have announced plans for an $11.3 billion merger.
The proposed merger was revealed on Wednesday morning after both companies agreed on Tapcorp paying for Tatts shares at a 20 per cent premium. This means Tatts shareholders will receive 42.5c for each Tatts share they hold as well as 0.8 Tabcorp shares.
The deal will ultimately give Tabcorp control of the business, which is set to run more than 90 per cent of Australia's totalisator wagering – in every state and territory but Western Australia – and offer the biggest range of lotteries. Additionally, the predicted revenue for the merged giant is $5 billion.
Tabcorp Chairman, Paula Dwyer, commented on the merger in a media release today, noting the benefits it will bring in.
"In today's rapidly changing landscape, bringing together our businesses will create a strong and diversified business that is well placed to invest, innovate and compete, both in Australia and globally," she said.
"This transaction is expected to deliver significant value for both sets of shareholders, and material benefits to other key stakeholders including the racing industry, business partners, customers, and governments."
Tatts's chairman, Harry Boon, added the merger is the next logical move for the two businesses.
"It comes at a time of escalating competition from new business models and rapid consolidation of gaming and wagering companies globally," he said.
"The scale and efficiency benefits from this combination will provide a stronger platform in this dynamic environment."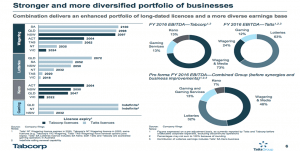 However, there are concerns the deal won't gain approval from the Australian Competition and Consumer Commission (ACCC), due to past reservations.
Following the merger announcement this morning, the competition watchdog released a statement saying a vigorous assessment of the deal would be undertaken.
"Our understanding is the proposed merger will require a public review that will examine a range of potential issues and areas of overlap, with the focus on various gaming and wagering services," the ACCC said in the statement.
"The ACCC may also consider possible overlaps in other areas, such as systems for managing poker machines and lotteries/Keno."
If the deal does go ahead, the companies expect it will be completed by the middle of 2017.
Our take: This is a massive merger for the two gambling companies in Australia and we see the deal getting the green light from the ACCC. This is due to the recent go ahead of the JB HI-FI and Good Guys merger which seemed to have far more competition overlap concerns than the aforementioned deal.