Win $3.2 billion in Lottoland's El Gordo Christmas draw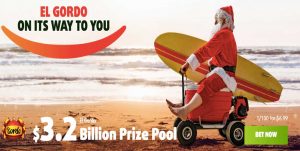 Australians have never had the chance to win a prize pool worth more than $3 billion until now.
Lottoland and its betting partner William Hill are both offering Aussie players the chance to participate in one of the biggest jackpot lotteries in the world: The Spanish Christmas Lottery El Gordo.
El Gordo, which translate to the big fat prize in English, is considered to be the biggest lottery worldwide, with more than 90 percent of Spain participating in the annual draw.
Before 2016, only the Spanish could participate in the record-breaking jackpots which would make the ultimate Christmas present. Now Australians can have the chance to win the same division one prize thanks to the online lottery betting sites.
While players aren't participating in the official draw, you will be betting on the outcome and have the chance at winning the same $AUD3.2 billion jackpot.
Taking place on December 22, Australians can bet on the outcome at Lottoland or William Hill's Planet Lottery website.
Players make their bets the same way Spanish players purchase their tickets.
Each ticket features a five-digit number, with 164 tickets featuring the same combination. What this means is you and 164 people could all hold the winning ticket, and you will all split the division one prize if that ticket number wins.
You can select which ticket number you would like at Lottoland or Planet Lottery, and decide whether you want to buy a full bet or not. The Spanish pool their money to buy the tickets as they're a bit expensive (which is why the jackpot is so big) and Australians can do the same to purchase a full bet for $349.99.
If you want to go it alone or you can't afford a full bet, you can either get 1/100th of a bet for $6.99 or a 1/10th for $49.99.
Since 165 people have the same number, the top prize is $6 million. But it reduces the odds of winning to just 1:100,000. You have an even better chance of winning the 1794 smaller prizes worth $1400 each too.
Lottoland will pay you by taking out insurance or from the ticket pools, depending on the size of your winnings.
So if you want to spend the rest of your life enjoying a siesta, check out Lottoland's El Gordo jackpot for 17 different ways to win and a one in 10 chance of winning the minimum prize.
Lottoland also has a range of other lotteries you can bet on, including US Powerball, and exclusive lotteries like Mega 2018 which you bet on the outcome to win big prizes.