Win a Newcastle bar with a $25 raffle ticket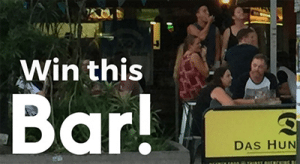 Do you want $30,000 and your own bar and restaurant? A $25 meal voucher could get you there.
Raffles are incredibly popular in Australia, with charity draws offering Aussies the chance to own their own city-central home or beachfront apartment.
But thanks to one Novacastrian who has turned a difficult endeavour into an exciting opportunity, you could own your own business.
Instead of selling Das Hund Haus the traditional way, James Sneddon has opted to create a raffle. Although there are only eight days left until a winner is drawn, you can still get your entry.
All you have to do is purchase a $25 meal voucher which will get you five entries into the draw and two meals for the price of one at the German themed restaurant located in Newcastle, New South Wales.
Mr Sneddon followed all the right protocols for his raffle, securing a permit from Liquor and Gaming NSW in April when he launched the promotion, set to be raffled on August 31.
However, Liquor and Gaming NSW has urged entrants to read the terms and conditions carefully as the sale of a business/transfer of lease is not a matter overseen by the regulator.
Although the cash is enticing, running a bar requires business skills and an understanding of the industry. Fortunately, Mr Sneddon has revealed via emails to subscribers that he will help the winner train staff and create their "self-employed bar and restaurant dream".
Mr Sneddon has also offered to help the winner sell the venue, which has 31 months remaining on the lease with no debts and just under $2000, for six-figures. The liquor licence will also be transferred to the new owner.
The reason for selling the business, which is the only venue in Newcastle to sell steins of beer, is due to Mr Sneddon owning another business, as well as family commitments.
Mr Sneddon told the Newcastle Herald earlier this year that he "got the idea [for the raffle] after he saw an Australian couple raffle a tropical island resort last year."
At the time, Mr Sneddon had only sold 200 vouchers, with a goal of 2000 ( the equivalent of $50,000). But he surpassed the mark, selling 5032 tickets (the equivalent to $125,800) as of August 10.
"Anything you sell is only worth what people are willing to pay for it," Mr Sneddon told the Newcastle Herald in April.
"A business takes 37 weeks to sell and I already had it on the market for six weeks before the raffle got approved, and it is open for 20 weeks.
"If I want to hold out for the full price it might take forever."
He had the business on the market for $200,000 before launching the raffle.
You can still purchase tickets for the raffle via the Das Hund Haus website or head to Oz Lotteries to view other available raffles.