Win more than $900m with Lottoland's Australia Day jackpots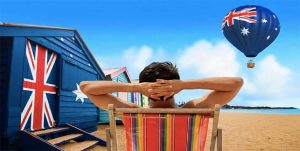 G'day mates, we just wanted to let you know that Lottoland Australia wants to give its players the opportunity to achieve the Australian dream, with a chance to win more than $900 million on US Powerball.
The online lottery betting site has two special jackpots to celebrate Australia Day on Friday, so you have double the chance at winning a multi-million-dollar prize while cracking a cold one.
| | | | |
| --- | --- | --- | --- |
| Draw | Draw Date | Draw cut off time | Bets close |
| 5 | Thursday, January 25 | 3pm AEDT | 2pm AEDT |
| 6 | Sunday, January 28 | 3pm AEDT | 2pm AEDT |
You need to get your bets in before the cut-off date if you want the chance to buy a new barby or over-indulge in some gourmet lamingtons with your winnings.
If you're unclear about how to get your tickets into these huge draws, keep reading.
How to buy tickets at Lottoland
All Aussie battlers can sign up to Lottoland, except for those living in South Australia where the rules are a little bit different, to create an account. Once you've logged in, you'll be able to purchase your tickets and be on your way to treating yourself to unlimited avo on toast.
You will find the US Powerball draws under its own tab in the main menu panel, and clicking on it will take you to the ticket page. You can pick five numbers from 1 to 69, and the Powerball from one to 26, just like in the US official draw. You can do this as many times as you like, or opt for the Quickies (numbers randomly picked for you), with three for $30 and six for $60.
Submit your bets and proceed to the checkout, where you can settle your account with Visa, MasterCard, PayPal, POLi or Paysafecard.
You are betting on the outcome of a draw when purchasing tickets at Lottoland. In this case, you're betting on the numbers that of the US Powerball official draw.
Why is the jackpot higher than the official draw?
Lottoland takes out insurance to cover its prizes so it can pay players more than what the official jackpots offer. The business model gives Lottoland the chance to put on special draws, such as the Australia Day jackpots above.
It's important to note Lottoland pays Division 1 to 3 prizes for bets on the US Powerball as a 30-year annuity or discounted lump sum at Lottoland's preference, and are subject to a 38 percent reduction. You can read more about these terms and conditions on the Lottoland website.