Fresh calls for Lottoland to be banned in Queensland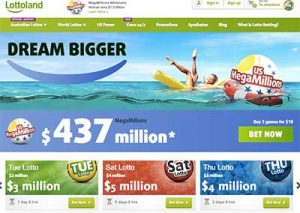 Australia's main lottery corporation wants Lottoland banned in Queensland to save jobs and state government taxes.
The Australian Lottery and Newsagents Association (ALNA) has been a vocal opponent of the lotto operator since the day Lottoland began attracting punters who would normally buy their tickets from newsagencies.
But ALNA is now calling for the company to be banned in Queensland as it believes more than $250 million a year in State Government taxes and thousands of newsagency jobs are in jeopardy.
ALNA's Ben Kearney has recently slammed Lottoland for telling consumers not to "settle for less" in their ads.
Lottoland operates by allowing consumers to bet on the outcome of a lottery, with American and European draws available. Punters can place a bet directly on the site or at William Hill via the Planet Lottery product.
But the ALNA is quick to point out that Lottoland does not pay out the same as the European ad US lotteries since it takes a 35 percent cut due to taxes.
Lottoland also prefers to pay winners in instalments due to its business model which requires the company to take out insurance to cover winnings.
But the ALNA has pointed out that the prize is reduced by another 40 percent if punters want the winnings paid in full.
"Lottoland split prizes over the number of winners in the actual lottery draw, even though consumers have only bet on it, not entered it, as well as over the number of Lottoland winners, which can significantly reduce final prizes," ALNA's Ben Kearney said.
Lotto agencies in Queensland have also reported an eight to nine percent decline in lotto revenue in the last 12 months. Lottoland does not pay tax in Queensland, while these agencies do.
But last month, Lottoland Australia CEO, Luke Brill, said he wanted the company to pay more tax and have it directed to charitable causes.
Lottoland pays the NT state government just over $500,000 a year for its betting license. It does not pay tax in any other state or territory in Australia which is has attracted strong criticism.
ALNA has already come out against Lottoland's business model calling it "parasitic" and pointed to legislation changes in the UK and South Australia.
"Fake lotto like Lottoland is actually an online bookmaker in Gibraltar that hijacks the name and image of lotteries, confusing Australians about what it really is," ALNA CEO Adam Joy said.
"It also only contributes roughly 1% of its turnover in gambling taxes each year.
"Lottoland [is] destroying Australian businesses while not contributing their fair share of tax.
"There is a reason that South Australia and other countries have banned and are in the process of banning Lottoland."
Lottoland has only been operating in Australia for 18 months but it has already attracted an eight percent share of the online lottery market.
Its operations have already gained attention by Senators, including One Nation Leader, Pauline Hanson, who attempted to introduce a secondary amendment banning the company during the Interactive Gambling Amendment Bill 2016 Senate debate.
A spokeswoman for Attorney-General Yvette D'Ath also commented on the issue stating they were "aware of the business" but refused to indicate whether they would be reviewing Lottolands operations.
"Consumers should be very aware that they are betting on the outcome of a lottery, not buying a lottery ticket," she said.
"Consumers should also be aware that revenue raised by Lottoland does not contribute to public services in Queensland, unlike the Golden Casket revenues which are reinvested in Queensland and support local businesses such as your local newsagent."