National lottery body wants law changed to implicate Lottoland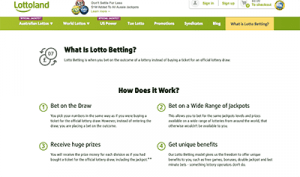 Lottoland has faced a lot of backlash since its inception and now the Australian Lottery and Newsagents Association (ALNA) want to legislate the concerns.
ALNA caught onto the discussions during the Senate debate over the Interactive Gambling Amendment bill 2016 last month where One Nation Leader Senator Pauline Hanson targeted the online lottery site, Lottoland.
A secondary amendment to make the site, along with other lottery sites which allow players to bet on the lotto numbers rather than participate in the draws, was introduced by Senator Hanson.
While it failed, it has caught the attention of ALNA which has targeted the business model that relies on insurance policies to pay winners.
As such, the national lottery body want something done about the synthetic lottery site in terms of legislative changes to the Interactive Gambling Act 2001.
ALNA want similar restrictions which are enforced in South Australia.
In SA it is illegal to bet on lottery outcomes and therefore Lottoland is unable to accept residents from the state. It is the only state which enforces these rules.
CEO of ALNA, Adam Joy, has said the legislative changes are necessary since Lottoland is confusing many punters.
"Our members have customers requesting Lottoland tickets, wrongly thinking that Lottoland offers the same opportunities to enter a lottery draw but at a lower price," Mr Joy said.
"When in fact it doesn't. It is a wagering website that is not subject to the same rigorous regulations that Australian official lotteries adhere to."
If you visit the Lottoland website there's a number of links where you can find out what the service offers.
But Mr Joy said while the members, which are official lotteries, can adapt to change it "should not be at the expense of responsible corporate citizenship."
"Consumers need to know the difference between buying official lottery tickets directly from a licensed operator, and using a wagering website that sends most of its revenue overseas," he said.
"It affects our economy and many local small businesses."
The biggest concern raised by Senator Hanson during the debate was tax revenue – indicating politicians only care about gambling issues if there's money to be made.
Lottoland allegedly doesn't pay the same taxes official lotteries do, which accounts for significant tax revenue in each state and territory they are licensed in.
Senator Hanson also argued that "there is no guarantee that they will be able to pay up if anyone does have a win."
But as per Lottoland's policy "winnings are fully guaranteed and protected by multiple layers of government regulation" and "is regulated by the NT Government."
The Northern Territory jurisdiction licenses a number of verified gambling sites, including major bookmakers such as Sportsbet.
Still, ALNA has become quite vocal in regards to Lottoland's operations and is likely to be heard since the lottery industry plays a fundamental role in the Australian economy.
The 4000-plus family owned businesses which sell lottery tickets contribute around $1.4 billion in taxes and $150 million in GST.