Lottoland sponsors Everest trek for brain cancer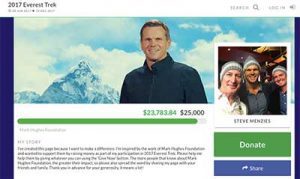 Just days after Team Lottoland conquered Everest to raise money for brain cancer, former NRL boss, Matt Callander, died after battling the disease for more than a year.
Former NRL player, Steve Menzies, joined Team Lottoland last week to climb the 5500-metre trek up Mount Everest to raise money for the Mark Hughes Foundation, a not-for-profit organisation which centres on finding a cure for brain cancer.
The Sea Eagles legend and his team took on the nine-day challenge, and despite several members becoming dizzy and coughing up blood, the group stated people who suffer from the disease face bigger mountains every day.
Unfortunately, Mr Callander was one of the many, who have been diagnosed with the disease. In the 18 months he battled brain cancer, he managed to raise $2 million for cancer research via the NRL's Beanie for Brain Cancer round.
The charity trek also included former Newcastle Knights legends Matthew Johns, Paul Harragon and Danny Buderus, with each member creating fundraising pages to raise money for the MHF.
Lottoland donated a further $7500 to Mr Menzies, getting him closer to his goal of $25,000. You can donate by heading to the 2017 Everest blog.
In a blog post on its website, Lottoland said it "was proud to sponsor such a great cause and hopes the donation given to the Mark Hughes Foundation can help further support the research and possible cure for brain cancer."
"Lottoland encourages others to get behind this great cause," the blog post states.
Lottoland has recently been facing a lot of criticism for their business model, which offers players the chance to bet on the outcome of Australian and international lottery draws.
The Australian Lottery and Newsagent Association (ALNA) has teamed up with Tatts in an attempt to get the site banned in Australia, claiming the online bookmaker doesn't contribute to the community.
However, Lottoland marketing director, Matthew Brinckley, said: "Despite recent media reports, Lottoland continues their support of charity and contribution within the community."
Mr Brinckley also confirmed the online lottery site planned to honour its three-year commitment to the Sea Eagles, with the deal's future uncertain after the NSW government revealed the state has been considering a state-wide lottery betting ban.
"The conduct of synthetic lottery operators may breach existing wagering legislation and the NSW Government is currently considering options to restrict betting on these lotteries in NSW," Minister for Racing, Paul Toole, said.
But Lottoland has proposed a revenue-sharing model with Australian newsagents, in a bid to support small businesses.
Under the partnership, Australian newsagents receive 10 percent of every bet a Lottoland customer makes. All newsagents have to do is advertise Lottoland's international lottery services – Australian lottery services are excluded.
If you want to find out more about Lottoland, check out our official review and final verdict.
Grab additional bonuses by signing up at Lottoland via our links and start picking your lucky numbers.