Tatts wins licence to continue operating Victorian lotteries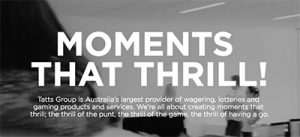 Tatts has beat international operators for a 10-year licence to run Victoria's lottery games.
The Australian gambling giant was announced on Thursday as the successful bidder and will continue to run the states Tattslotto, Powerball, Oz Lotto and scratchies.
Tatts already has a licence to run the games in Victoria until 2018 but the new deal will allow the wagering and lotteries provider to continue operations until 2028.
Under the new agreement, Tatts will have to pay an upfront "premium payment" of $120 million and ongoing payments which, according to the Victorian government, will total around $4 billion.
Tatts chief executive, Robbie Cooke, said the company had run lottery games in Victoria since 1954.
"I am delighted with this important licence win and the opportunity to continue operating Victoria's public lotteries," he added.
Gaming Minister, Marlene Kairouz, said Tatts was chosen after a 20-month process.
"Tatts has a proven record running our public lotteries and I'm pleased to announce they will continue to do so for the next 10 years," she said.
Tatts won the licence over Tabcorp, despite being in the process of merging.
The two gambling companies have just spent three weeks presenting their case to the Australian Competition Tribunal. If successful, Tabcorp will acquire Tatts for $11 billion and therefore the Victorian lottery licence.
Pacific Consortium, backed by private equity titan Kohlberg Kravis Roberts, entered two bids to acquire Tatts but they were both disregarded.
The Tribunal has heard a number of submissions, both supporting the merger and challenging it. Corporate bookmakers and some racing bodies believe it will weaken competition in the wagering industry, as well as limit vision rights.
The Tribunal will determine whether it will give the deal the green light within the coming weeks.