The $10 million Oz Lotto draw makes nine people millionaires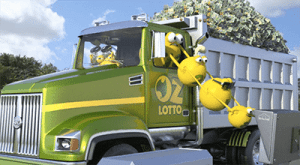 The $10 million winning ticket in Newcastle, NSW, has been found, and it appears the Division one prize will be split nine ways.
A private syndicate of nine friends, called the Ten Tenors, were confirmed as the winners of last week's multi-million Oz Lotto draw.
It was revealed the winning ticket was purchased from the Newcastle suburb of Georgetown on Tuesday February, 28, but NSW Lotteries didn't confirm the win until Monday, March 7.
The nine members, including retired and working men aged 50 through to 60, started their syndicate more than a decade ago naming it the Ten Tenors.
"The Ten Tenors is a name we came up with at the time because originally there were 10 of us in it, and most of us stuck with it," one member of the syndicate said.
Since the syndicate was formed, the member have tracked their monthly contribution for lottery tickets in an Excel spreadsheet.
Each member will receive just over $1.1 million, with the group revealing plans to pay off their debts and help their families.
"We might also do a bit more travel, but we might sit up the pointy end of the plane a bit more," one man laughed.
One member said he was going to pull out of the syndicate earlier this year but feared he would miss out if the others had a Lotto win.
"You know the only reason I'm in the syndicate is because I didn't want you guys winning without me," another member added.
The search for the winners has ended just a week after another Novocastrian found a winning $1 million Saturday Lotto ticket from a year ago in his old shopping bags.
Georgetown Newsagency owner, Paul Smith, congratulated the winners, stating the $10 million win was all anyone was talking about.
"Since taking over the store three years ago, our biggest prize was $14,000, but now that's been blown out of the water by this $10 million win," he said.
"Newcastle seems to be a magnet for lots of things lately.
"We've had Newcastle winners in The Block, My Kitchen Rules and now Oz Lotto."
The Lott's division one winning entry tally has now reached 272 so far this financial year, including 79 won by NSW Lotteries customers.